DPS Road Test
Driving School of North Texas (DSNT) is licensed by the Texas Department of Public Safety to administer the official DPS Road Test (Skills Test). Students from DSNT, other commercial driving schools, public schools, and parent taught programs, are welcome to test at our location at 6449 Coit Rd., Frisco.
Who is eligible to test?  If you are between 16 and 24 years of age and have completed an approved TEEN driver education course in the State of Texas  (32 hours classroom and 14 hours in car) and possess a DE-964 certificate you can test with us.
We cannot administer the test to adults 25 years of age and older.
We cannot administer the test to adults who have taken the Adult 6 Hour Drivers Ed Course
Please read through the information below regarding the DPS Road Test.
What is the cost of the driving test at DSNT?
DPS Road Test (Skills Test) – $70  (Non-Refundable)
Location:
Driving School of North Texas
6449 Coit Road, #114
Frisco, TX 75035
(We currently only offer the Road Test at our Frisco East location.)
There will be a $35 Fee for:
Retaking test after failing;
Retaking test because car failed inspection;
Rescheduling due to non-compliance of documentation requirements;
Rescheduling due to not arriving in time for test (at least 15 minutes prior to scheduled time); or
Cancelling or rescheduling test less than 48 hours prior to scheduled road test.
To reschedule a Road Test please call DSNT
214 504 9292
Monday – Friday between 1:00 to 6:00 pm.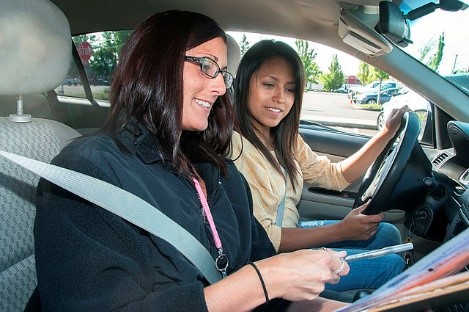 Who can take the Road Test with Driving School of North Texas?
Must be between 16 and 24 years old and completed the TEEN drivers ed course.
Held a learner's permit for 180 days. The exact date is on the back of your permit
Must have a DE 964 or PTDE 964 Certificate
Must have a ITTD Certificate
Vehicle Requirements
Registration is Current
Certificate of Insurance, Paper Copy Only
Licenses Plates on Front and Rear of Car
Temporary Plates "Texas Buyer" or "Metal Texas Dealer"
No Rental Cars
Policy
All proper documentation MUST be presented at the time of check-in & the student's car MUST pass inspection. If unable to meet ONE or BOTH of these requirements, the test will have to be rescheduled.  There is a $35 rescheduling fee.
If you need to change your scheduled date or time, you must do so at least 48 hour's prior to the scheduled test date and time (excluding Sundays) or a $35 rescheduling fee will be charged.
Payment must be received in order to confirm a date and time for the DPS Road Test. PLEASE NOTE – THERE ARE NO REFUNDS FOR DPS ROAD TEST FEES.